With summer quickly approaching, we are getting ready for sunshine and fun outdoor activities. With summer also comes a variety of seasonal produce and other delicious meals. It's the perfect time to fuel our bodies with nutritious foods that not only satisfy us but also support our overall immune health. In this blog, we will dive into numerous recipes and meal combinations that incorporate immune-boosting superfoods!
Superfoods for Immune Health
Superfoods offer incredible benefits for our overall health, specifically our immune systems. These superfoods are typically rich in antioxidants, minerals, vitamins, and other vital compounds. According to The Cleveland Clinic, superfoods are typically classified as foods that are nutrient dense but lower in calories. They list countless nutritional benefits of superfoods, including:
Cancer prevention
Reduced inflammation
Lower cholesterol levels
Heart health
A stronger immune system
By incorporating these superfoods into our diet, we can help to enhance our immune function and overall well-being. Some of the most popular and nutrient dense superfoods include: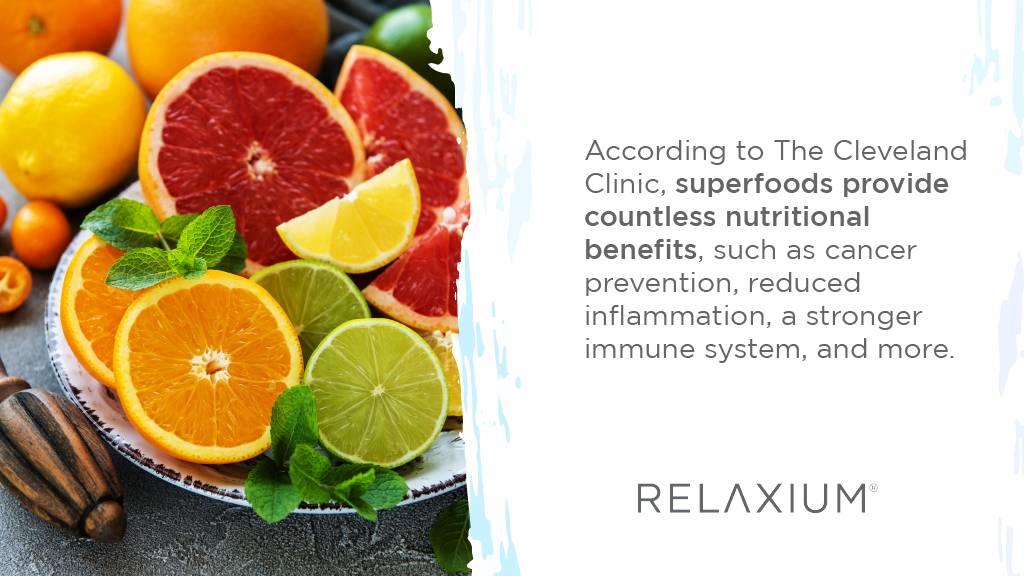 Citrus Fruits: Citrus fruits, such as oranges, lemons, and grapefruits are known for their high vitamin C content. This essential nutrient helps stimulate the production of white blood cells, which are important for fighting off infections within the body. Incorporate delicious citrus fruits into your summer routine to prevent any unwanted sickness!
Lean Proteins: Lean proteins are essential for a well-rounded diet that aids in immune health. Try opting for lean sources this summer such as poultry, fish, and legumes. These protein-packed foods provide important amino acids and other nutrients necessary for proper immune system function.
Whole Grains: Whole grains, including quinoa, oats, and brown rice, are extremely rich sources of fiber, vitamins, and minerals. They help to support a healthier gut, which plays a critical role in the body's immune response. By adding more whole grains to your summer meals, you can nourish your body with essential nutrients.
Leafy Greens: Leafy greens, such as spinach, kale, arugula, and spinach, are great sources of vitamins A, C, and K. They are also known to be great sources of iron and fiber. They provide a wide range of antioxidants that help support our overall immune function. Adding these nutrient-rich greens into your meals can help boost your body's defense against illnesses this summer.
Berries: Berries are another food that are packed with immune boosting properties. They are full of antioxidants that help to protect our cells from damage and contain high amounts of Vitamin C, which help to strengthen our immune system. Popular berries, such as strawberries, blueberries, raspberries, and blackberries, are a great addition to incorporate into your summer diet.
Mouthwatering Recipes
Take advantage of the abundance of fresh produce available this summer with some of these mouthwatering recipes. They are packed with healthy ingredients that will keep you feeling energized! Some of our favorites include:
Smoothie Bowls: Start your morning off right with an immune-boosting and refreshing smoothie bowl. Simply blend together a mix of antioxidant-rich berries like strawberries, blueberries, and raspberries, along with a handful of spinach for some extra nutrients. You can top it off with a crunchy granola, chia seeds, and some honey for added taste! This colorful and nutrient filled bowl will provide you with a great start to your day.
Watermelon and Feta Salad: Summer means experimenting with delicious salads! Combine pieces of watermelon with crumbled feta cheese, mint leaves, and some black pepper. This simple and refreshing salad provides a balance of sweet and savory flavors, and the watermelon helps to keep you hydrated during the hot summer.
Grilled Salmon with Lemon and Garlic: When it comes to immune-boosting superfoods, salmon is one of the best! Filled with omega-3 fatty acids and vitamin D, salmon helps to strengthen the immune system and reduce inflammation. Simply cook some salmon seasoned with fresh lemon, minced garlic, and a small amount of dill. This delicious recipe can be served alongside your favorite vegetable for a healthy summer dinner!
Relaxium Immune Defense
While you can eat superfoods that help boost your immune system this summer, sometimes that may not be enough! If that's the case, consider trying Relaxium Immune Defense. This dynamic antioxidant blend supplies vital nutrients to help maintain optimal immune health. It has been doctor developed and designed to help improve defense against illness, supply essential antioxidants, and support immune function.
This essential supplement uses immune enhancing ingredients such as elderberry, zinc, echinacea, vitamin c, and garlic to proactively support your immune system. Adding Immune Defense to your routine this summer will have you feeling healthier than ever! Try it now for only $28.88 when you use promo code IMMUNEBLG28 at checkout!
At Relaxium, we have a simple mission in mind – to create affordable, safe, and effective supplements. Through extensive research, we created four life enhancing supplements: Relaxium Sleep, Relaxium Calm, Relaxium Immune Defense, and Relaxium Focus Max. We use a perfect synergistic blend of ingredients in our products to ensure results. If you are interested in trying our Relaxium products, click here for more information!
To restful and healthy days ahead,
The Relaxium Team
*These statements have not been evaluated by the Food & Drug Administration. This product is not intended to diagnose, treat, cure, or prevent any disease.
Sources:
[1] What Is A Superfood, Anyway? (health.clevelandclinic.org)
[2] 22 Recipes That Can Strengthen Your Immune System (everydayhealth.com)